Despite trying to trick people into signing petitions that were destined to be shredded or burned…
…this happened.
MADISON, WI (WTAQ) - Recall Walker organizers say they have collected 50,000 signatures within the first 48 hours.  United Wisconsin is the cornerstone to the Recall Gov. Scott Walker petition drive going on across the state.  Breaking it down, the group needs more than 9,000 signatures a day to reach the goal of more than 540,000.  Recall Walker folks have until January 17th to turn in enough valid signatures to begin the process of recalling the Republican Governor who will have been in office for only a year by then.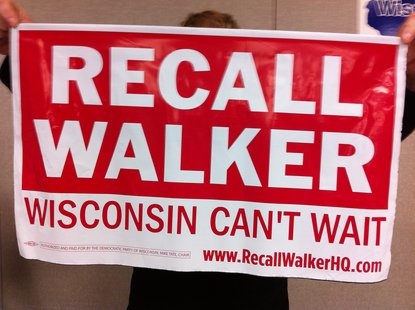 At this rate, they'll have 1.5m signature versus the 540K they need.
I wonder if there's a little bead of sweat moving down Walker's shiny little head right now?  I wonder if the GOP realizes they've lost Wisconsin AND Ohio with their grand overreach?
If Politics is a spectator sport for non-athletics, Walker looks like he's Minnesota in this match up.
BLOW OUT.